信息


09/08/2017
Notification !
Recently by the product Myung Sung company vina many bad objects to counterfeit. Therefore, we recommend that you note the following features to avoid buying counterfeit goods, counterfeit goods, poor quality goods:
1 / On each package rolls our company always have:
         - A stamp on anti-counterfeit stamp on which detailed description of anti-counterfeit stamp and some specific characteristics to ensure customers identify the true.
          - A laser anti-counterfeit laser hologram. This type of anti-counterfeit stamp is only used once, if removed and will not remain intact to paste again. On the stamp of the company is a M-shaped image is inserted in the letter S. The anti-fake look at three different angles will appear three different images as in the picture attached to the side.
         - The product packaging with full brand name of Myung Sung Vina.
        - The stamped package shows the contents of the product information, production date, place of manufacture, etc. in accordance with the law.
2 / The company has a proprietary trademark, so that the word "Myung Sung Vina" is attached to the top of the last letter in Myung Sung Vina: "Myung sung vina"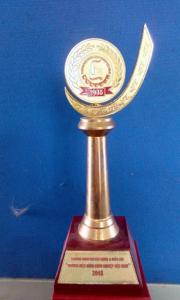 14/07/2017
After a long time since 2002, Myung Sung employees and staffs are not afraid to listen to feedback from consumers as well as from customers inside and outside. We also constantly strive to innovate and innovate our technology, always trying our best not only to produce the best products for all customers. At the same time, we also keep the heart, credit with customers. That is why we have been beloved, trusted and evaluated by our customers as the best quality Tarp product in Vietnam market. That we have been recognized by the market, social recognition through the program "Vietnam Gold Brand Industrial" in 2015 in Hanoi. At this show we officially received the title of Gold Cup brand! This is a great encouragement for the collective staff of Myung Sung Vina company. We are determined to continue to work harder to provide our customers with the highest quality, most prestigious and most affordable products.
信息
支持
: Vũ Thị Tâm

: 0251 3 542 966/967/969/970

: myungsungvinakorea@gmail.com

: Mr Seo

: 0251 3542 966

: myungsungvina01@gmail.com
Follow me
Counter session
online: 1
today: 148
yesterday: 94
total: 214248
maximum: 568
dateMaximum: 03.02.2022